How to Double Your Impact Next Year
by
December 16, 2014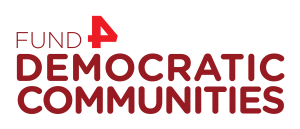 We're pleased to announce that The Fund 4 Democratic Communities has partnered with us to create the Double Your Impact Match. With only 15 days of our campaign left, we are still $7,500 short of reaching our goal to increase our impact for next year.
In just two weeks, we have already raised $12,286 towards our goal of $20,000. With your donation, and the Double Your Impact Match, we'll be able to exceed our goal of $20,000 we need to create more opportunities for people to open their own worker-owned companies.
Your donation of $50 will be doubled to $100, making $100 available for our team to ensure every worker's business can be a success. Remember, we never require workers to repay our investments unless their projects are successful, so your donation is critical to our work.
With the Double Your Impact Match, we can reach our goal of $20,000 that we need to:
Continue our work in the Rockaways to give residents the chance to build three more cooperatives to recover the Rockaways
Launch a regional peer program with cutting-edge grassroots organizations nationwide
Make New Era more than a story in Chicago, but a reality for workers losing their jobs across the country.
Help us reach our goal by donating today. We only have 15 days left to raise the remaining $7,500!